Regular price
₴990.00 UAH
Regular price
Sale price
₴990.00 UAH
Unit price
per
Sale
Sold out
Raw Silk Body glove effortlessly exfoliates, purifies and energises skin. 

It is known to brighten dull dry skin, remove fake tan, prevent ingrown hairs and improve the appearance of scars, stretch marks and cellulite.
Tips and care:
We recommend using Raw Silk Body glove 1-2 times a week to maintain the equilibrium of your skin
Be gentle on sensitive areas such as those with sunburn, eczema and cuts & grazes
Peeling skin may not always be evident, but rest assured the exfoliation is still effective!
How to use

How to use:

1. Soak skin under warm water for 10-15 minutes

2. Put on Raw Silk glove, and rinse under warm water

3. Turn off the water and move the glove in sweeping motions across your skin applying pressure. No need to use any soap or body wash!

4. Skin may start to peel, this is normal. Pay special attention to areas where skin is slightly tougher (knees, elbows and ankles).

5. Rinse skin thoroughly.Apply skin moisturiser. Enjoy clean skin!
Materials

Organic Mulberry 100% Raw silk.

No toxic dyes.
Our silk is certified with Organic Textile Standard (GOTS) and Oeko Tex 100.
Shipping & Returns

Delivery is carried out by «NOVA POSHTA». The cost of domestic delivery is automatically added at the checkout. For international delivery please read here
Care Instructions

To keep your glove in a great condition we recommend washing it with warm water after each use.

Do not machine wash.

The glove may shrink slightly after first use.
View full details
I'm happy with my new glove!
I recently purchased three items (both as a gift and for myself). This wasn't my first time ordering from the MOLODO
- The process was smooth - the order was taken quickly, and the manager was polite and friendly (this time, I ordered to the Netherlands, so it took about 1.5 weeks)
- The delivery arrived on time, and I've been assisted throughout the process
- The gloves looked just like the photo on Instagram
The only issue appeared: the packaging was slightly wrinkled, but that was most likely due to the postal service 🤷‍♀
Overall, I had a great experience with MOLODO and plan to order from them again in the future
"This glove is a game changer!
Best replacement for other skin scrabs"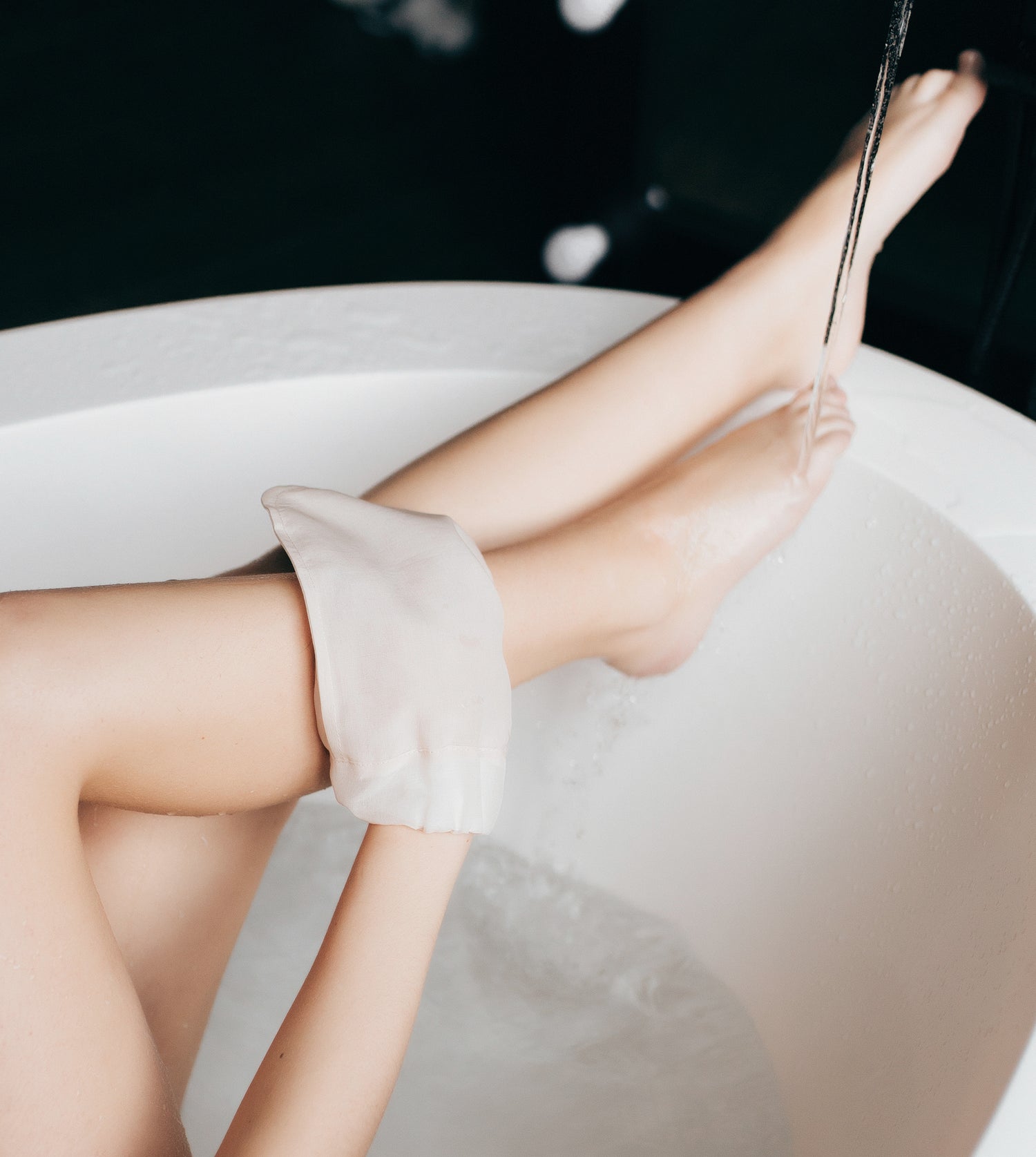 Key benefits for your skin:
✓ Natural exfoliation, peeling and brightening
✓ Removes dead, dry skin
✓ Prevents ingrown hairs
✓ Improves blood flow
✓ Helps remove the excess of fake tan
✓ Makes skin smooth and silky
✓ Reduces breakouts
✓ Lightens scars and stretch marks
✓ Helps to reduce cellulite due to massage and blood flow
How To Use Raw Silk Glove MOLODO
FAQ
What is Raw Silk?

Raw silk is woven from silk yarns which contain sericin. In its most natural form, the yarns are quite uneven and that gives the fabric a slightly coarse yet smooth texture with a gorgeous sheen. This unique raw silk texture provides a great result for skin care and youth.
How long can I use the Raw Silk Exfoliating Glow from MOLODO?

It is best to change MOLODO's Raw Exfoliating Glow every six months if you use it 1-2 times a week. This product works best with regular use over time, delivering a healthier, more radiant complexion. Reuse your old glow for house cleaning ;)
Is it safe to use on face skin?

We highly recommend using separate Face Raw Silk Exfoliating Glove for the face skin for hygienic r purposes.